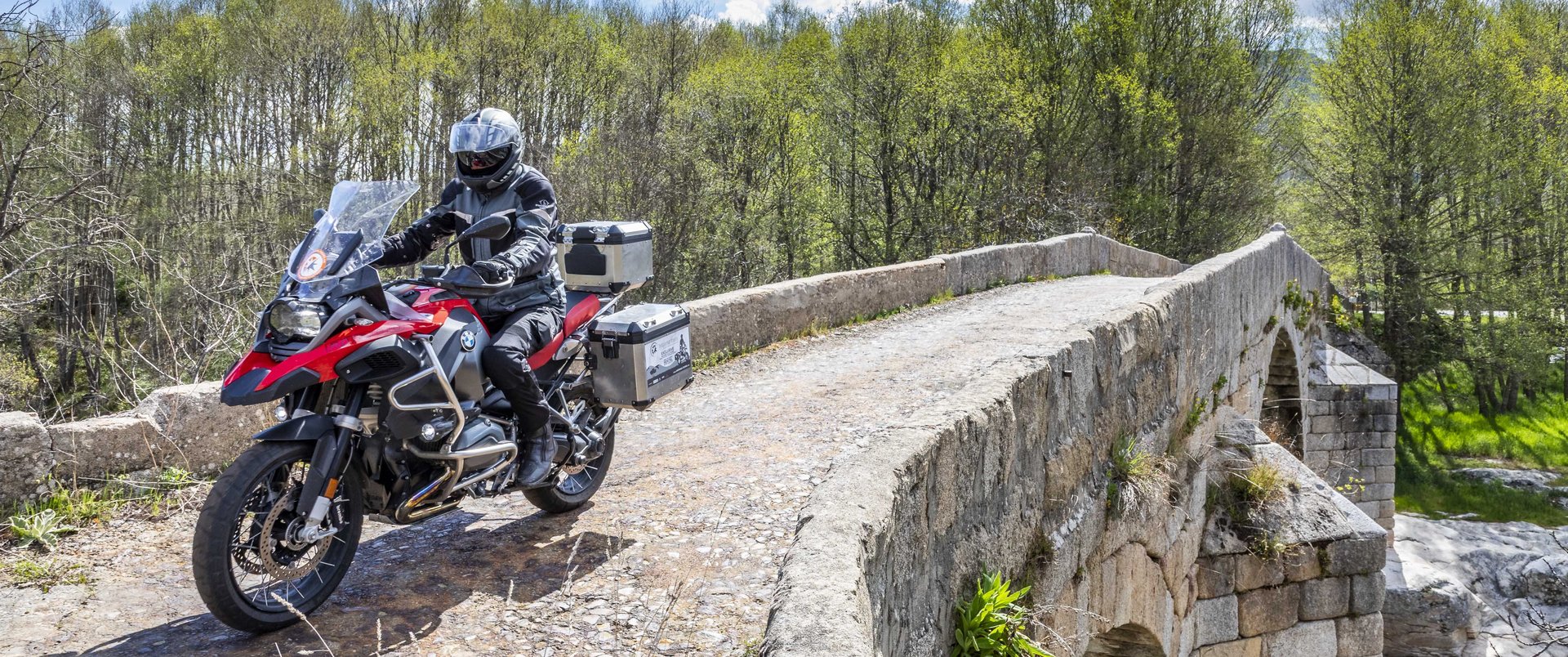 The motorcycling paradise of Andalusia with its exceptional routes along the Mediterranean Sea and to the Sierras
From San Pedro to Ronda and to the winding Puerto de las Palomas pass road in Sierra de Grazalema
The Atlantic coast and the beautiful White Village of Conil de la Frontera
Arcos de la Frontera, one of the nicest of the White Villages in Andalusia
The historical Antequera and the impressive Torcal mountain range
Pure riding pleasure in the Montes de Málaga Nature Park
A crew member of the Hispania Tours team awaits you at the airport in Málaga and will transfer you to the comfy tour hotel.
If you are already accommodated on site, or your flight arrives early enough (in the morning before 11:00 am), you can remove this overnight stay from the included services during the booking process.
Accommodation: Tourhotel Málaga
After picking up the motorbike in the morning, we head quickly past orange and lemon trees towards the mighty El Chorro Gorge. From there we ride along small roads through deserted valleys with olive groves towards the Sierra de las Nieves National Park. On your way to Ronda, spectacularly beautiful winding roads with exceptional grip and great views of the surrounding mountains and the Mediterranean Sea await you. You reach your destination Ronda, which lies on the slope of the 100m Tajo gorge, via the imposing bridge "Puente Nuevo", which was built in 1750. Ronda knows how to inspire with its old town and its narrow alleys and walls from the Moorish period.
Stage destination: Ronda
Driving kilometres: 242 km
Highlights: El Chorro, Sierra de las Nieves, Serranía de Ronda, Puente Nuevo
Your route from Ronda takes you along small roads through a gorge, passing a former dam with impressive rock formations. The route continues along the breathtaking curves of the Serranía de Ronda to the Atlantic coast of Spain, from where you can see Africa only 15 km away. The numerous restaurants of the fishing villages with a relaxed surfer flair invite you to enjoy a grilled fish with a view of the Atlantic. In the afternoon, you will cycle along the seemingly endless Atlantic coast to your destination of today, Conil de la Frontera.
Stage destination: Conil de la Frontera
Driving kilometres: 270 km
Highlights: Serranía de Ronda, Strait of Gibraltar, Atlantic Coast
Today your tour takes you to Jerez de la Frontera, the home of the world-famous sherry (Jerez wine), where you have the opportunity to visit a bodega and taste a wine or two. Jerez is not only famous for its sherry, but also for its noble race horses. You will spend the night in Arcos de la Frontera, whose idiosyncratic setting on a rocky ridge 160m above the Guadalete River is considered one of the most beautiful white villages in Andalusia.
Stage destination: Arcos de la Frontera
Driving kilometres: 180 km
Highlights: Bodega Sandeman, Old Town Arcos
The fresh mountain air in the morning gives you energy for the coming hours in the Sierra de Grazalema, which captivates you with its turquoise lakes, cork oak forests, birds of prey circling above you and a unique pass road up to Puerto de las Palomas.
Great rinding through endless fields of olive trees and then, after an eventful day, you can linger in Antequera, which is steeped in history. In Antequera, you have the opportunity to visit a dolmen site, which has been a UNESCO World Heritage Site since 2016.
Stage destination: Antequera
Driving kilometres: 280 km
Highlights: Sierra de Grazalema, Puerto de las Palomas, Alcazaba Antequera, dolmen site
In the morning you leave Antequera and its Alcazaba fortress and drive up to the "El Torcal" mountain, which is known for its unique karstic rock formations. You continue on the beautiful winding roads of the Sierra Tejeda, passing almond trees and a beutiful view of the Sierra Nevada and the Mediterranean coast, where you will enjoy the sea breeze in a bay at your a coffee break. Before you return to Málaga, your route will take you to the natural park "Montes de Málaga", which offers countless curves and panoramas of the Mediterranean Sea and the surrounding mountains.
Stage destination: Málaga
Driving kilometres: 300 km
Highlights: El Torcal, Almond Valley - Almendral, Sierra Nevada, Mediterranean coast, Montes de Málaga
The suitcases are packed and according to your flight time, our transfer service is ready to take you to the airport. We say goodbye and hope to see you again soon on one of our other motorbike adventures!
Please note: We reserve the right to make minor changes to the tour schedule.
Tour dates and book your tour from Málaga
---
This self-guided tour in Andalusia can be done from the beginning of September until the end of June. When booking the tour, please select your start date, which is the same as the arrival date of the tour itinerary above.
Included services
Hispania Tours rental motorbike (additional equipment and gear can be booked on request)
Sat nav on the motorbike with the daily routes loaded
Tour briefing and instructions for each day's ride
Road book + maps
Airport transfer for tours from Málaga
Accommodation and Meals
Accommodation in 3* and 4* star hotels as well as small, typical boutique hotels
Daily breakfast during the tour is included in the tour price
Not included
Flight, fuel, drinks, dinner, snacks, travel insurance
Everything that is not explicitly listed in the included services
On your self-guided tour you will stay in carefully selected hotels that reflect the true character of the region and guarantee relaxation after your days of riding. The majority are 3* and 4* star hotels as well as small, authentic boutique hotels.
If you like it a bit more in style, like to wake up with a sea view or appreciate more luxurious facilities, you can add the Hotel Plus package. In this case, we will make sure that you get just the one, particularly beautiful room in the hotels or even an upgrade to a better hotel category.