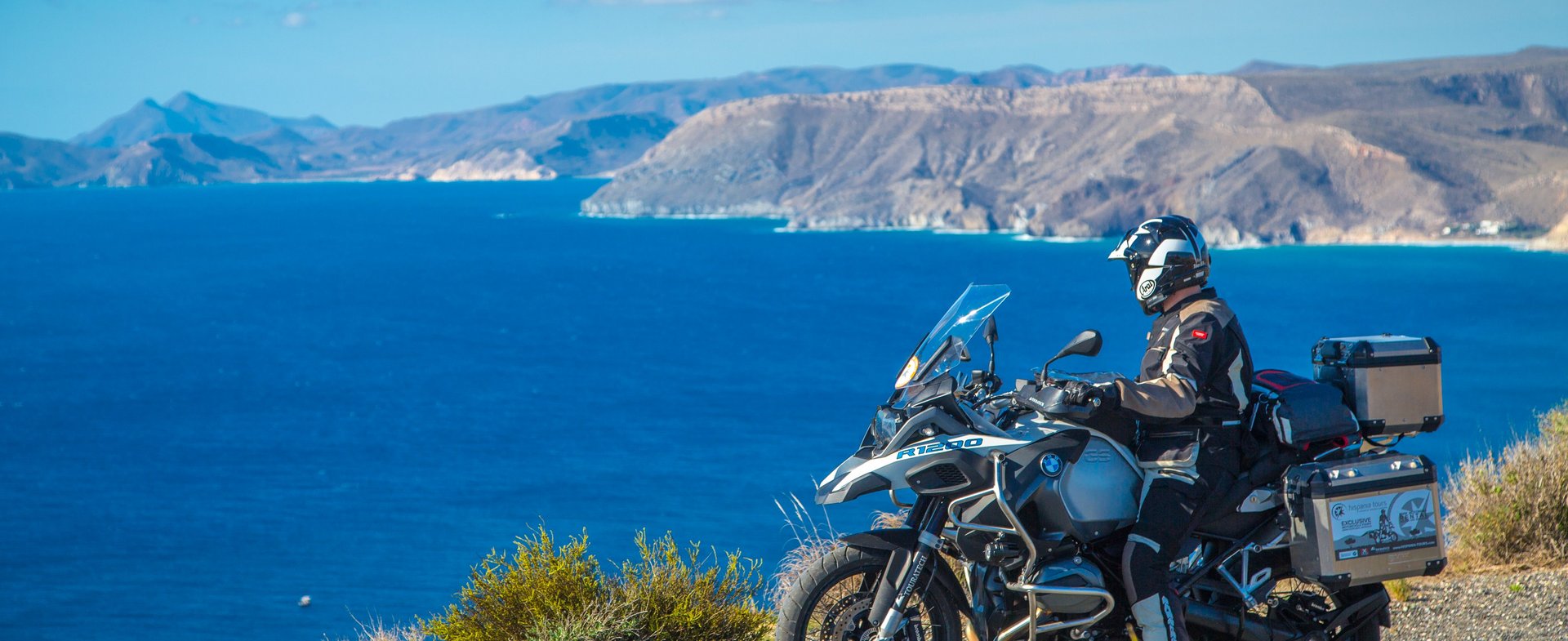 Andalusia, the motorcycling paradise and its exceptional routes along the Mediterranean Sea and in the Sierras
The panoramic roads along the beaches of the Costa del Sol, up into the Alpujarra mountains at the flanks of Sierra Nevada
Trevelez, one of the highest villages in Spain, famous for its air-dried Serrano ham
The beautiful coastal roads of Cabo de Gata Nature Park and the Tabernas desert.
Motorcycle pleasure at its finest in the Montes de Málaga
Spend the nights in the lovely Paradores of Nerja and Mojácar right on the coast
A crew member of the Hispania Tours team awaits you at the airport in Málaga and will transfer you to the comfy tour hotel.
Accommodation: Tourhotel Málaga
---
If you are already accommodated on site, or your flight arrives early enough (in the morning before 11:00 am), you can remove this overnight stay from the included services during the booking process.
After picking up your motorbike in the morning, you will head quickly east along a beautiful coastal road along the Mediterranean Sea. Along the way you cross small villages, coastal cliffs with panoramic views over the sea and small cafés on the beach, that invite you to relax and enjoy a cup of coffee in the breeze. Along beautiful curves, you continue towards the Tabernas desert, once the scenery of Western movies, to reach the Cabo de Gata nature park. This is a sunny region all year round, and with temperatures around 20-25 degrees, it is still a great place to sunbathe even in winter time.
Stage destination: Mojácar
Driving kilometres: 330 km
Highlights: Mediterranean coast, Tabernas desert
After a beautiful red sunrise at the sea, you will experience the full diversity of this authentic Spanish region on today's round trip. Away from the tourist hustle and bustle, you are (almost) alone on your ride through the never-ending curves of the Sierra del Filabres. The route takes you over spectacular mountain roads, like the Alto de Velefique - we call it the Andalusian Stifserjoch - and past dreamy Andalusian villages with their goat herders, marble quarries with their stone knockers, and only very, very rarely do you meet other road users.
Stage destination: Mojácar
Distance: 255 km
Highlights: Sierra de Filabres, Alto de Velefique, Circuito de Almería.
Today you will slowly head west again and in the morning you cross the beautiful nature park of Cabo de Gata, which is very dry but always green and will delight you with its beautiful coastal roads, colorful flower fields and old windmills. Afterwards, you are going to las Alpujarras - such a great variety of scenic extremes is rarely found elsewhere: Snow at an altitude of 3,400 m on the Sierra Nevada, a sea of blossoming almond trees in spring, large vineyards and fields on the southern slopes and plains, and again and again the magnificent view of the deep blue Mediterranean Sea. A paradise of curves winds through this splendour and finally brings you back to the coast.
Stage destination: Nerja
Distance: 320 km
Highlights: Cabo de Gata Nature Park, Sierra de Alpujarra, Parador of Nerja.
From Nerja, your route takes you into the Sierra Tejeda, past cherimoya and avocado trees of to a twisting road known among the locals as "Carretera de la cabra" (goat path). Off the road, you'll admire scenic contrasts between softly rolling green hills and craggy stone masses reminiscent of the Pyrenees mountains. Before you return to Málaga, your route will take you to the Móntes de Málaga Nature Park, which offers you countless curves and panoramic views of the Mediterranean Sea and the surrounding mountains.
Stage destination: Málaga
Distance: 225 km
Highlights: Sierra Tejeda, "Carretera de la cabra - the goat trail", Móntés de Málaga
---
If you are already accommodated locally, or your flight departs late enough (in the afternoon from 17.00), you can remove today's lodging from the included services during the booking process.
The suitcases are packed and according to your flight time, our transfer service is ready to take you to the airport. We say goodbye and hope to see you again soon on one of our other motorbike adventures!
Please note: We reserve the right to make minor changes to the tour schedule.
Tour dates and book your tour from Málaga
---
This self-guided tour in Andalusia can be done from the beginning of September until the end of June. When booking the tour, please select your start date, which is the same as the arrival date of the tour itinerary above.
Included services
Hispania Tours rental motorbike (additional equipment and gear can be booked on request)
Sat nav on the motorbike with the daily routes loaded
Tour briefing and instructions for each day's ride
Road book + maps
Airport transfer for tours from Málaga
Accommodation and Meals
Accommodation in 3* and 4* star hotels as well as small, typical boutique hotels
Daily breakfast during the tour is included in the tour price
Not included
Flight, fuel, drinks, dinner, snacks, travel insurance
Everything that is not explicitly listed in the included services
On your self-guided tour you will stay in carefully selected accommodations that reflect the true character of the region and guarantee you rest after the days of riding. On this tour you will be accommodated mostly in beautiful PARADORES, located directly by the sea.
If you like it a bit more in style, like to wake up with a sea view or appreciate more luxurious facilities, you can add the Hotel Plus package. In this case, we will make sure that you get just the one, particularly beautiful room in the hotels or even an upgrade to a better hotel category.