Motorcycle rental in Spain -

Rent a BMW 700GS, 800GS, 1200GS, 1200R and 1200RT
General Information
Rental spot Málaga
Rental spot Barcelona
Operator
Services
Motorcycle pick up

Motorcycle drop off

Region
Minimum Age
License

Comprehensive insurance
Minimum rental time
Breakdown cover




5 min. from Malaga Airport, Andalusia
City Center (25 min. from BCN Airport)
Hispania Motorcycletours, S.L.
Motorcycle rental
Daily from 09:00 a.m. to 19:00 p.m.,
after 16:00 p.m. half a day is charged
Daily until 19:00 p.m.,
the drop off day is always charged as full day
Europe
25 years, minimum 3 years possession of license
National driving license
For Non-europeans international driving license
Contribution amounts to the deposit
3 days
Paneuropean breakdown cover
Our motorcycles are maintained at BMW service workshops and in perfect technical conditions. As Touratech test center we provide Touratech equipment in the area of transport and protector systems.

GPS units (Garmin Zumo 660) can be rented for € 10,- per day.

Download here our current rental rates
Experiences :
After just completing an approx. 1700 km 5-day ride through the Pyrenees out of Barcelona, it has truly been an unbelievable trip of a lifetime. I had extremely high expectations because everyone raves about the roads and beautiful scenery in North Spain and South France across the Pyrnees but once you actually see the breath taking views while riding these magnificent roads…turns out my expectations were WAY too low!!
The entire production was truly top notch from booking with Eva to pick-up and drop-off with Volker in Barcelona. Great communication and the bike was nearly new with new tires and everything dialed in. Volker helped me fine tune the route I took which really made the most of my time to get the best ride I could…and the welcome back coldie hit the spot like no other!!
Big thanks again guys!!
---
Our team of six riders would like to thank you for all your help and excellent service related to our rental bikes and recent trip in Andalusia.We have rented from several different organisations in three countries, and consider Hispania Tours to be the best. The condition of the bikes, the shuttle to and from the airport, and the recommended hotels we booked, were a few of the reasons we enjoyed the experience so much. We hope to ride with you again in the future.
---
We rented a 1200GS to explore the culture and scenery of northern Andalucía in February. Having rented bikes all over the world I can say that Hispania are well organised, welcoming, and easy to do business with. We'll certainly be back to rent again.
Find more testimonials of riders who rented bikes at Hispania Turs in our guestbook
BMW Motorcycle rental in Malaga and Barcelona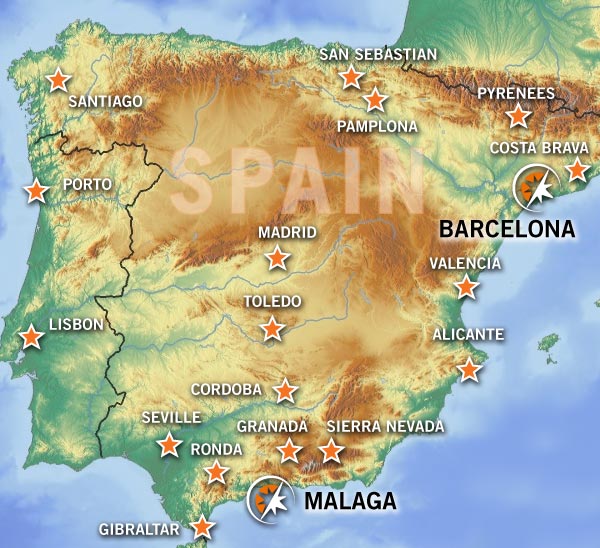 Exclusive motorcycletours in Spain, Portugal, Morocco and The Alps since 2003. © Hispania Motorcycletours S.L.