Motorcycle Tour Alps -

Alpine Roads At Their Best
Overview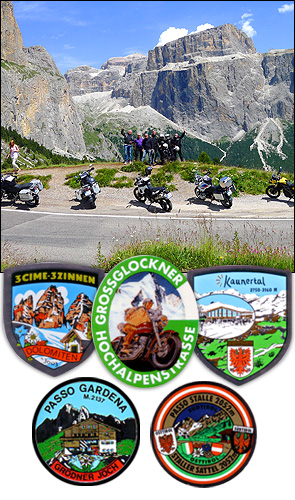 The Alps are the goal by definition of all the ones that are bikers at heart. Hispania Tours offers you an unique motorcycle tour, that brings you to the legendary routes of the highest and most beautiful mountain passes in the center of the Alps.
The tour starts and ends in the capital of Bavaria at the headquarter of BMW in Munich. From there you ride to Salzburg, hometown of Mozart, to get the culture rolling. On the highest mountain roads of Austria you cross the Alps at Grossglockner Mountain to arrive at Cortina d'Ampezzo, the center of the breathtaking Dolomites. You relax one day at beautiful Meran in Northern Italy to get ready to conquer the most fascinating mountain pass that exists in the Alps: the Stelvio at 2,750 meters of altitude. From there you continue through the Swiss Alps before you finally arrive at Tyrol. There you enjoy some of the best biker routes of Europe and visit a good selection of the notable monuments of the region as the Swarovski World in Innsbruck or the castle of Neuschwanstein.
This motorcycle tour to the Alps offers sheer riding pleasure on small, winding mountain roads with stunningly beautiful scenery. The roads throughout the entire route are asphalted. The comfort of 4* hotels awaits us after a day's riding.
Experiences :
Thank you so much for an amazing tour you provided to all of us... Right from the start we saw your organisational skills, friendliness and professionalism and not once were we disappointed at all, throughout the trip. The Hotels were excellent, food amazing, scenery breathtaking and the company was just awesome. We certainly have no hesitation in recommending this tour, even the ladies who may be considering doing it...don't hesitate as you will thoroughly enjoy it!
Main features of the tour:
TOURDATES:
2021:
2022:
Start / Finish: Munich
Duration: 10 days (8 riding days)
Total distance: 2.500 km
Tour character: Mountain & panoramic roads (asphalt)
Accommodation: first class 4* hotels
Highlights: Salzburg, Cortina d'Ampezzo, Stelvio, Dolomites, Neuschwanstein Castle, Meran
Tourmap
Daily stages
Day 1 Arrival Munich
Day 2 Munich - Salzburg
Day 3 Salzburg - Hangar 7 - Salzkammergut - Styria
Day 4 Styria - Dachstein Glacier - Eastern Alps
Day 5 Styria - Grossglockner High Alpine Road - Dolomites
Day 6 Roundtrip Dolomites
Day 7 Dolomites - Passo Stelvio - Tyrol
Day 8 Exploring Tyrol
Day 9 Tyrol - Neuschwanstein Castle - Munich
Day 10 Departure Munich
Course of events
Day 1: Arrival Munich
Arrival at the Munich airport and transfer to the hotel. Introductions over dinner in a typical Bavarian beer garden.

Day 2: Munich - Salzburg
The pre-Alpine region of Bavaria is the perfect playground to warm up your bike during the first day of riding. On the "German Alpine Road" you head towards Salzburg where you stroll along the famous street "Getreidegasse" and have coffee on the steps of the Salzburg Cathedral, scene of the Salzburg Music Festival.

Day 3: Salzburg - Hangar 7 - Salzkammergut - Styria
Leaving Salzburg, you visit the legendary facilities of Hangar 7, the Red Bull aeronautical museum on the outskirts of Salzburg, a must-see for technology lovers. The next destination is the Salzkammergut region, also known as the "Austrian Switzerland" due to the exceptional beauty of its valleys and lakes. The name Salzkammergut refers to the salt trade that literally shaped the countryside, making the area a Unesco World Heritage Site due to its well preserved uniqueness on a global level.

Day 4: Styria - Dachstein Glacier - Eastern Alps
You reach the Enns river valley and fully enjoy the roads of the Eastern Alps. Taking the cable car, you climb the impressive Dachstein massif and step into the void on the Skywalk, suspended over one thousand meters of Alpine air.

Day 5: Styria - Grossglockner High Alpine Road - Dolomites
Today you travel through a unique world of mountains with flourishing alpine meadows, fragrant mountain forests, huge cliffs and eternal ice.The Grossglockner High Alpine Panoramic Road. In the 1930's Austrian engineers designed and built this road for the enjoyment of motorists. Its 48 kilometers feature 36 switchbacks and a 2504 meter elevation gain. You conquer its sweeping curves through the heart of the Hohe Tauern National Park, climbing the north face of the highest mountain in Austria, the Grossglockner (3,798 meters) while you admire the Pasterze glacier. The majestuous beauty of the landscape and the exhilarating road make this riding day truly unforgettable. At the end of this day of superior riding you rest in the Southern Alpine Dolomite mountains.

Day 6: Roundtrip Dolomites
The Dolomitic Alps National Park is one of the most famous places to ride a motorcycle in The Alps - it is difficult to find another place where you can combine this variety of routes and the unique beauty of nature. You cross the Passo di Gardena (2,121 m) and the Passo di Sella (2,240 m) among many others on our return.

Day 7: Dolomites - Passo Stelvio - Tyrol
You say goodbye to the Dolomites as we are ready to take the highest peak of the route. With its 48 hairpins and 2,757 meters of altitude, the Stelvio Pass is the second highest crossing in the Alps. A true myth among motorcycling routes and extremely beautiful due to its unique location. From here you cross into Switzerland and back into Austria and ride the Kaun Valley, where you see the Weißseespitze(3,537 m), one of the highest peaks of Tyrol.

Day 8: Exploring Tyrol
Today you explore the Austrian Alps by motorcycle. Your hotel is surrounded by miles and miles of excellent roads that you will follow to the most beautiful corners of Tyrol. Today you visit Innsbruck, the capital of Tyrol and you have the option of a visit to the famous Swarovski crystal caves.

Day 9: Tyrol - Neuschwanstein Castle - Munich
You leave Tyrol on its legendary Alpine route and return to Munich. On the way, you marvel at the palace of Louis II of Bavaria, Neuschwanstein Castle. In Munich, we say goodbye while enjoying the excellent local cuisine in our favorite beer garden.

Day 10: Return trip

Images
Prices and services
TOURPRICES
| | | | | | |
| --- | --- | --- | --- | --- | --- |
| Driver | € 2.590 | Pillion | € 2.490 | Single Room Surcharge | € 450 |
YOUR MOTORCYCLE ON TOUR
Eigenes Motorrad
€ 0
BMW F700GS
€ 680
BMW F750GS
BMW F800GS
BMW F800GT
€ 760
BMW F850GS
F800GS ADV
€ 800
BMW R1200R
F850GS ADV
€ 880
BMW R1200GS
BMW R1200RS
€ 880
BMW R1250GS
BMW R1250R
€ 920
R1200GS ADV
€ 1.000
R1250GS ADV
BMW R1200RT
BMW S1000XR
€ 1.040
OUR SERVICES
Rental bike incl. comprehensive insurance for 8 riding days
9 x accommodation in first class 4* Hotels
Breakfast and Dinner
English/Spanish speaking tour guide
Chase vehicle
Information package / Maps
Souvenir
Not included:
Flight, Fuel, Drinks, Snacks
TOURDATES
2021:
2022:
Request