Tourinfo -

New Years Tour - Waltz of the curves
Overview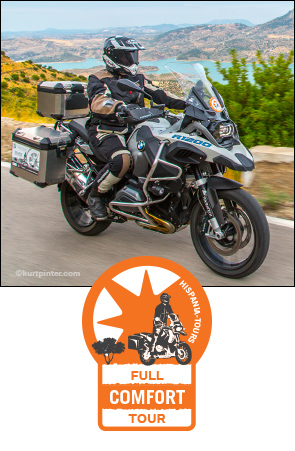 Even during the winter months Andalusia can offer perfect riding conditions, warm sun and mild temperatures of around 20 °C are to be expected.
Enjoy the natural beauty of Andalusia on one of the many serpentine roads which weave their way between mountains and sea. In the surrounding regions of Málaga you can find some of the best biking roads around, fantastic mountain passes and costal roads are begging to be explored.
To ring in 2020, we invite you for a dance on our traditional New Year's Twister, that swings through the curves of Andalusia. This tour comes with a promise of sheer riding pleasure on fantastic motorcycle tracks. We spend three days in the Parador of Mojacar where we celebrate the New Year with a delicious gala dinner and lots of fun. During the day you can enjoy yourself on the charming routes in the Cabo de Gata Natural Park, unforgettable mountain and coastal roads await you! Afterwards we enjoy two wonderful days in the Parador of Nerja, one of the most beautiful hotels of the Spanish south coast. From here we explore the Sierra Nevada and the Costa del Sol. Tour start and end take place in the Parador of Malaga.
Experiences :
My wife Galina and I waltzed the curves in Andalucia with Johannes and Eva through the change of year 2012/2013. Regarding the riding, I have travelled Europe heavily, and also some Latin American countries, but what I found in Andalucia made me owed. Seemed that extra-terrestrial motorcycle fans :) had come to Earth specifically to build all that beautiful and empty from cars roads. You are doing 2-3 thousand curves in a day and never stop wanting mooooore :). People who think that you have seen it all,- come to Andalucia and you will be surprised how much more you can still see!).
Following Johannes was a pleasure and a great help in avoiding unexpectable slippery parts of the road. All-in-all, that was a rare case in life when I could say that the tour was really exclusive from all viewpoints.
Johannes, Eva, thanks for the great tour and for your company, it was great to be with you and also one of the nicest New Years in my life in the warm and sunny Andalucia far from haste and stupid crowds. Will sure come back!
Course of events
Day 1: Arrival in Malaga
Arrival at Malaga airport and transfer to the hotel. Introductions over dinner with Spanish wine while giving us an opportunity to discuss our tour.
Day 2: Day trip to El Torcal and El Chorro
Today is all about the exhilaration of riding. On our way to Antequera we'll pas through various nature reserves each offering its own unique riding experience. We shall head on to the gorge of El Choro and then on to the strange Sandstone formations of El Torcal. In the evening we'll have a chance to relax with a cold drink in one of the many beach bars of Malaga.
Day 3: Granada and the Sierra Nevada
We will cover the distance from Malaga to Granada on a beautiful panoramic road. From here we climb the peaks in the Sierra Nevada and rest in the White Villages of Las Alpujarras. That is pure Spain with panoramic viewes on the Mediterranean Sea and blue sky all the time.
Day 4: Malaga – Sierra Contraviesa – Cabo de Gata
Today we'll make our way through the foothills of the Sierra Nevada (the Sierra de Contraviesa, Sierra de Gator). Endless curves and magnificent motorcycling routes await us as we head into the Cabo de Gata nature reserve where we shall spend the night in a beautiful 4 star Hotel. This region is defined by its mild climate and year long temperatures of approx. 25 -28 °C, which is good news for all you sun lovers.
Day 5: Roundtrip (Sierra del Filabres – Desert of Tabernas)
On today's roundtrip we shall discover the diverse beauty of this ancient Spanish region. Here "off the beaten track" other road users are few and far between as we make our way up the twisty serpentine roads of the Sierra des Filabres. As we pass sleepy little villages and marble quarries you could be forgiven for thinking that we are the only people on the road.
Day 6: Cabo de Gata - The white washed villages of the Alpujaras – Cabo de Gata
Today we shall discover the breathtaking beauty of the Alpujara Mountains. The excellent mountain roads take us up into the foothills and past countless mountain villages that time forgot. In Trevelez (the highest village in Spain) we can try the famous Jamon (ham). Well rested and with full stomachs we'll ride back to the comfort of our Hotel at Cabo de Gata.
Day 7: Caves and Corners
Today's trip starts off in Nerja famous for its caves. After we've had our fill of Stalagmites and enjoyed lunch, we'll head to the idyllic Spanish village of Frigiliana where every photo looks like a postcard. The next stage of the day is the road to Comares and Colmenar. The way back to Malaga takes us through the Sierra de Almijara which promises tight twistys and long sweeping bends.
Day 8: Return journey
We reserve the right to make minor changes to the tour.
Fotoshow
Videos Antequera | Cabo de Gata | Almeria | Granada
Prices and services
TOURPRICES
| | | | | | |
| --- | --- | --- | --- | --- | --- |
| Driver | € 1.980 | Pillion | € 1.880 | Single room surcharge | € 300 |
YOUR MOTORCYCLE ON TOUR
On your own bike
€ 0
BMW F700GS
€ 570
BMW F750GS
BMW F800GS
BMW F800GT
€ 630
BMW F850GS
F800GS ADV
€ 660
BMW R1200R
F850GS ADV
€ 750
BMW R1200GS
BMW R1200RS
€ 750
BMW R1250GS
BMW R1250R
€ 780
R1200GS ADV
€ 840
R1250GS ADV
BMW R1200RT
BMW S1000XR
€ 870
Request