Hispania Tours -

First Class Motorcycle Touring
Guided Motorcycletours | BMW Motorcycle Rental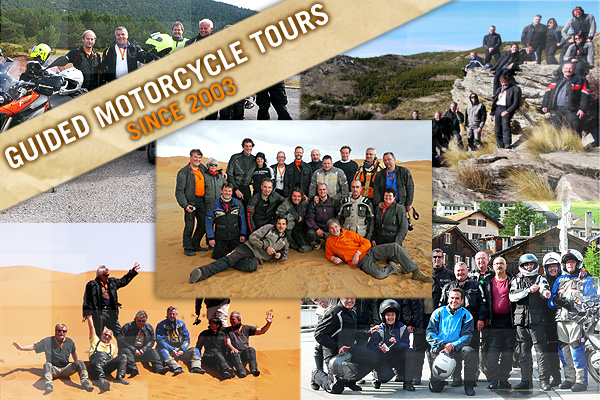 Exclusive motorcycling means top quality for YOU:
Individual customer service: Our goal is to provide you with an unforgettable motorcycle tour. Personal commitment and attention to detail will make the tour a special experience for you.
Camaraderie: The feeling of friendship defines our trips – together we are en route, together we discover the country.
Safety: Safety always comes first with Hispania Tours! Our main focus lies in the completion of an incident-free trip. Our tour guides will brief you on stages of the trip where special attention is needed.
Experienced tour guides: Our multilingual tour guides are at your disposal with their motorcycle and cultural experience. They will guide you safely through the daily stages, and will show you the history and culture of the country, as well as hidden secrets along the road.
Professional tour preparation: All of our tours are carefully researched and prepared. We work constantly, trying to improve our tours and to incorporate new information into the tour to make them even more attractive for you. Before the start of the tour you will get an extensive information package with a map, list of hotels and tour description so you can become familiar with the tour in your own time.
Small groups: Normally no more than eight motorcycles per tour guide. This guarantees maximum personal freedom for each participant. Of course you can also discover parts of the tour on your own.
Comfortable accommodation: After a whole day riding we understand that comfortable accommodation with authentic atmosphere is of great importance. In each selected hotel you will find a hospitable and cultivated atmosphere with lots of charm and comfort.
Travelling without luggage: Upon your arrival at the hotel your luggage will be waiting for you in the room. During the daily legs you can ride with out worrying about heavy suitcases, as your luggage will be transported in the tour bus.
The tour bus: Our tour bus will always accompany our tours. Besides your luggage we also carry spare parts and a spare motorcycle. In case of an incident, we have a spare motorcycle ready so we can continue our tour without major delays. There is always a place for passengers in the tour bus.
BMW Motorcycles: Our fleet consists of new BMW R 1200 GS, BMW F 800 GS and BMW F 650 GS motorcycles which are ideal for our tours. All our motorcycles are maintained and serviced at BMW Service Centres and are equipped with side cases and tank bags.
The Tourbus
The Tourbus is our chase vehicle, luggage transporter and support in one.