BMW Motorrad -

Official Partner

BMW Motorrad International has selected Hispania Tours as an offical travel partner. The link with BMW is one more step on the path of the highest quality that is promised towards our clients.
For its tours in Spain, Portugal and Morocco Hispania Tours uses exclusively BMW motorcycles of the entire GS range and provides them as well as rental bikes. All our motorcycles are maintained and serviced at BMW service centres and are equipped with side cases and tank bags. BMW Motorrad clients, who look for riding and traing opportunities on the iberian peninsular or Morocco will receive extensive information about the services of Hispania Tours. If you want to visit the "travel and training" section of the BMW Website please click here.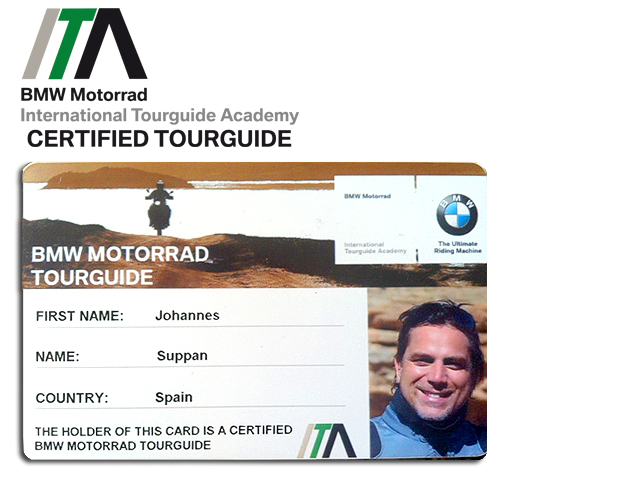 The BMW Motorrad ITA (International Tourguide Academy) is the place, where the top motorcycle tourguides in the world come to improve their skills and expand their knowledge in order to offer the best motorcycle tours possible.
To make sure, that every moment of your tour is an unforgetable and unique one, your tourguide has to be highly trained and versatile. He will not only show you the way to your destination, he will become a friend, he will help you in a situation of stress, act fast and solve your problems, he will share with you his local knowledge and take care of your safety.
Hispania Tours offers exclusive motorcycle tours, our guides are the embassadors of the Hispania Tours brand while on the road with you. This is why we have attended the International Tourguide Academy, to certify our chief guide and offer you an even better service. This certification is not for the benefit of Hispania Tours but for the benefit of all those riders that will come and ride with us. We are proud to announce, that since July 2013 Hispania Tours has one of few BMW Motorrad Certified Tourguides in the world, and the only one so far in Spain.