Motorcycle Tour Portugal -

Castles and History
Overview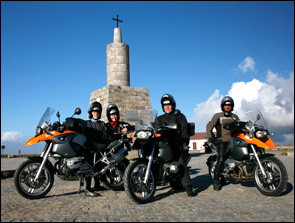 Portugal – The history of this seafaring nation is characterised by explorers and conquerors, while the natural beauty of this diverse country is virtually second to none. Extensive lowlands and kilometres of spectacular shoreline, fertile river valleys and imposing mountain ranges create the backdrop for this fascinating motorbike tour in Portugal. Historic cities, hospitable people, delicious cuisine and fabulous wines are just waiting to be discovered.
Our trip goes over Sierra Morena towards the mountains of the Serra Estrella. Here we find the highest mountains of Portugals, where we will spend an extra day before we travel further towards the most westerly point in Europe, the Cabo de Roca. In Lisbon we take another restday to explore this fascinating metropole. Our tour will go on along the Atlantic to Sagres before returning via Aracena and Seville to the starting point of our tour.
The tour offers complete motorcycling pleasure on winding mountain and country roads. The roads throughout the entire route are asphalted. The comfort of a 3* to 4* hotel (Pousadas) awaits us after a day's riding.
Main features of the tour:
Start/Finish:Malaga
Duration: 11 days
Total distance: Approx. 2.400 km
Tour character: Mountain and panoramic roads
Accommodation: Selected 4* hotels
Highlights: Lissabon, Tomar, Aracena, Alcantara, Serra Estrela, Sierra Morena
Tourmap
Daily stages
1. Day: Arrival Malaga
2. Day: Malaga – Zafra
3. Day: Zafra – Alcantara Bridge – Manteigas
4. Day: Manteigas – Serra Estrela – Manteigas
5. Day: Manteigas - Tomar
6. Day: Tomar - Lissabon
7. Day: Lisbon - Roundtrip (Rest Day)
8. Day: Lisbon – Algarve
9. Day: Algarve – Aracena
10. Day: Aracena - Grazalema - Malaga
11. Day: Departure
Course of events
Day 1: Arrival in Malaga
Arrival at Malaga airport and transfer to the Hotel. Introductions over dinner with Spanish wine while giving us an opportunity to discuss our tour.
Day 2: Malaga – Zafra
On a spectacular mountain road, the first stage of our motorbike tour takes us through Andalusia's fascinating mountains – welcome to Andalusia the motorbiking paradise – and we continue on these winding roads until we reach our destination for today – Zafra.
Day 3: Zafra – Bridge of Alcantara – Manteigas
Over the bridge of Alacantara (until now the best preserved Roman bridge) we reach Portugal. This border area between Spain and Portugal conveys the impressions that time here has simply stood still. Cork oak forests, a sea of flowers, picturesque lakes and ancient Spanish villages adorn our route through the mountains of the Serra Estrella.
Day 4: Manteigas – Serra Estrella – Manteigas
We extend our stay in the Serra Estrella by one day as this mountainous region tempts us with magnificent mountain passes and wonderful panoramic views. This region is home to Portugal's highest mountains with their winding roads serving as a yardstick for any serious biker. In the evening we can relax in a grand Pousada in the middle of the nature reserve.
Day 5: Manteigas - Tomar
We stay with our bikes on the panoramic roads. Also on this part of the tour you can enjoy the impressive views and perfect roads. We drive through de Serra de Lousa and pass ancient authentic, partly deserted, villages.
Day 6: Tomar - Lisbon
We are only a few kilometres separates from the capital of Portugal, Lisbon (Lisboa), which is located on the left bank of the river Tejo. The best way to to get an impression of the atmosphere of the old city of Lisbon, is to stroll through the bairro (district) Alfama. Here you will find a labyrinth of small streets and alleys with old houses, former palaces and bars.
Day 7: Lisbon – Restday
We visit the beautiful capital of Lisbon - you have the choice to be on your own or join our guide during the day. At night we will vibe to the local Fado tunes with a glass of Port wine.
Day 8: Lisbon - Algarve
After the hustle and bustle of the city, we drive further along the Atlantic coast. Our route will take us to Cabo des Sinnes, Cabo de Sao Vicente, and to the southwestern point of the continent Europe, The Algarve. Some splendid views over ocean are guaranteed here.
Day 9: Algarve – Aracena
Today we ride through the province of Alentejo through cork oak forests, past grain fields and olive trees. The roads lined with eucalyptus trees seem to wind endlessly through the countryside. In the afternoon we still have enough time to visit Aracena in the Extremadura region. Aracena is undoubtedly one of Spain's most exciting and fascinating villages.
Day 10: Aracena - Grazalema – Malaga
On the last day we still have the motorcycle paradise of Andalusia to enjoy and conquer the Sierra Grazalema mountains. Back in Málaga over a farewell dinner we look back at some of the fantastic impressions of the past weeks.
Day 11: Return journey
Note: We reserve the right to make minor changes to the tour.
Video + Photos
Please be patient while video loads ...
Prices / Services
TOURPRICES
| | | | | | |
| --- | --- | --- | --- | --- | --- |
| Driver | € 2.590 | Pillion | € 2.490 | Single room surcharge | € 450 |
YOUR MOTORCYCLE ON TOUR
On your own bike
€ 0
BMW F700GS
€ 765
BMW F750GS
BMW F800GS
BMW F800GT
€ 855
BMW F850GS
F800GS ADV
€ 900
BMW R1200R
F850GS ADV
€ 990
BMW R1200GS
BMW R1200RS
€ 990
BMW R1250GS
BMW R1250R
€ 1.035
R1200GS ADV
€ 1.125
R1250GS ADV
BMW R1200RT
BMW S1000XR
€ 1.170
OUR SERVICES
Transfer in Malaga
Rental bike incl. comprehensive insurance
Accommodation in first class 4* Hotels
Breakfast and Dinner
English/Spanish speaking tour guide
Chase vehicle
Information package / Maps
Souvenir
Not included:
Flight, Fuel, Drinks, Snacks
Request