Tourinfo -

Andalusia Classic, Mediterranean to Atlantic
Overview
Andalusia..."Classic" – This motorbike tour between the Mediterranean and the Atlantic leads us to the highlights of Andalusia on endless, small mountain roads from the Costa del Sol to the Costa de la Luz.
We visit the natural paradise of El Torcal and the El Chorro gorge, followed by Ronda and via Tarifa to Conil de la Frontera where the kilometres of sandy beaches on the Atlantic coast tempt us to take a walk before continuing in the direction of the Sierra Nevada, passing though the fascinating towns of Arcos de la Frontera and Antequera onto Granada. Before crossing the Sierra Nevada we visit the town of Guadix famous for its cave dwellings. Finally we head for the Alpujarras – bend after bend accompanied by the unique scenery of this region.
The tour offers complete motorcycling pleasure on small, winding mountain roads with stunningly beautiful scenery. The roads throughout the entire route are asphalted. The comfort of a 3* to 4* hotel awaits us after a day's riding.
Main features of the tour:
TOURDATES:###no upcoming Dates for this tour (31)###
Start/Finish: Malaga
Duration: 8 days, 6 days riding
Total distance: Approx. 1400 km
Tour character: Winding mountain and panoramic roads
Accommodation: Selected 4* hotels
Highlights: Ronda, Jerez, Arcos, Granada
Tourmap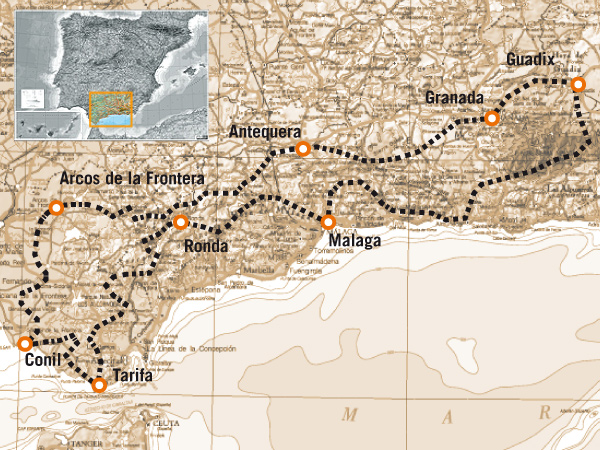 Daily stages
Day 1: Arrival in Malaga
Day 2: Malaga - Ronda (about 220 km)
Day 3: Ronda - Tarifa - Conil (about 230 km)
Day 4: Conil – Cadiz – Jerez – Arcos de la Frontera (about 100-180 km)
Day 5: Arcos de la Frontera – Antequera (about 240 km)
Day 6: Antequera - Granada (about 200 km)
Day 7: Granada – Sierra Nevada – Malaga (about 230 km)
Day 8: Departure
Course of events
Day 1: Arrival in Malaga
Arrival at Malaga airport and transfer to the hotel. Introductions over dinner with Spanish wine while giving us an opportunity to discuss our tour.
Day 2: Malaga – Ronda
We start off on the Costa del Sol heading towards Ronda riding up to the El Chorro gorge on long-drawn winding roads in the Sierra de las Nieves. The town of Ronda is situated on a rock plateau and is split in two parts by a 160 m deep canyon. Ronda is also famous for Spain's oldest bullring which we will, of course, visit.
Day 3: Ronda - Tarifa - Conil
To the south of Ronda there are numerous small mountain chains offering an ever changing, spectacular landscape and roads that are simply made for our motorbikes. Bend after bend on asphalt surfaces for perfect bike control we experience spectacular views such as the Rock of Gibraltar, famous for its monkeys. Here we stop on a road offering panoramic views into Morocco which lies only a few kilometres away. We then ride along the Atlantic coast heading for Conil de la Frontera.
Day 4: Conil – Jerez – Arcos
We make our way to Jerez de la Frontera, the home of the world-famous sherry (Jerez wine), giving us the opportunity to visit a bodega and sample some of the excellent wines. Jerez is not only famous for its sherry but also for its noble thoroughbred horses. Arcos de la Frontera with its unusual backdrop on a rock ridge situated 160 m above the river Guadalete is considered to be one of the most beautiful white villages in Andalusia.
Day 5: Arcos – Antequera
Today, our route leads to Antequera, riding through wild mountainous countryside and canyons in the Sierra Margarita and the natural wonder of El Torcal, famous for its unusual and unique limestone formations. You will marvel at the stone sculptures created by nature along the spectacular road to El Torcal.
Day 6: Antequera - Granada
Although today's program is dominated by a visit to the Alhambra, one of the most important of Spain's cultural heritage sites, we still make sure we get our fair share of biking pleasure. Our route takes us over beautiful mountain passes, through olive groves, past poppy fields and lakes before approaching the high plateau of Granada.
Day 7: Granada - Malaga
We leave Granada in order to fully enjoy the magnificent region of the Alpujarras. We take a break in the town of Guadix which is of particular interest because almost half the population lives in houses underground. The trip continues through the Sierra Nevada and the unique scenery of the Alpujarras to the highest villages in Spain. Away from the traffic with the Mediterranean Sea in sight we start our descent along the steep winding roads to our starting point of the tour.
Day 8: Return journey
Note: We reserve the right to make minor changes to the tour.
Media
Please be patient while video loads ...
Prices and services
TOURPRICES
| | | | | | |
| --- | --- | --- | --- | --- | --- |
| Driver | € 1.650 | Pillion | € 1.550 | Single room surcharge | € 250 |
YOUR MOTORCYCLE ON TOUR
| | | |
| --- | --- | --- |
| | Your own bike | € 0 |
| | BMW G650GS | € 510 |
| | BMW F700GS | € 570 |
| | BMW F800GS | € 630 |
| | | |
| --- | --- | --- |
| | BMW R1200GS | € 720 |
| | BMW R1200R | € 720 |
| | BMW R1200RT | € 870 |
OUR SERVICES
Transfer in Andalusia
Rental bike incl. comprehensive insurance
Accommodation in first class 4* Hotels
Breakfast and Dinner
English/Spanish speaking tour guide
Chase vehicle
Admission to the Alhambra
Information package / Maps
Souvenir
Not included:
Flight, Fuel, Drinks, Snacks
TOURDATES
###no upcoming Dates for this tour (31)###
Request